SWISSTRAX brand terrace tile, discover the new flooring terrace, easy and quick installation by simple clipping. Create your terrace or renovate your terrace without massive work! Take advantage of a high-quality product Made in France intended for residential and commercial. SWISSTRAX terrace tiles is installed by yourself, no need to be a DIY professional, the installation comes down to simple clipping. These tiles are made of polypropylene, a plastic raw material that is extremely resistant to climatic variations.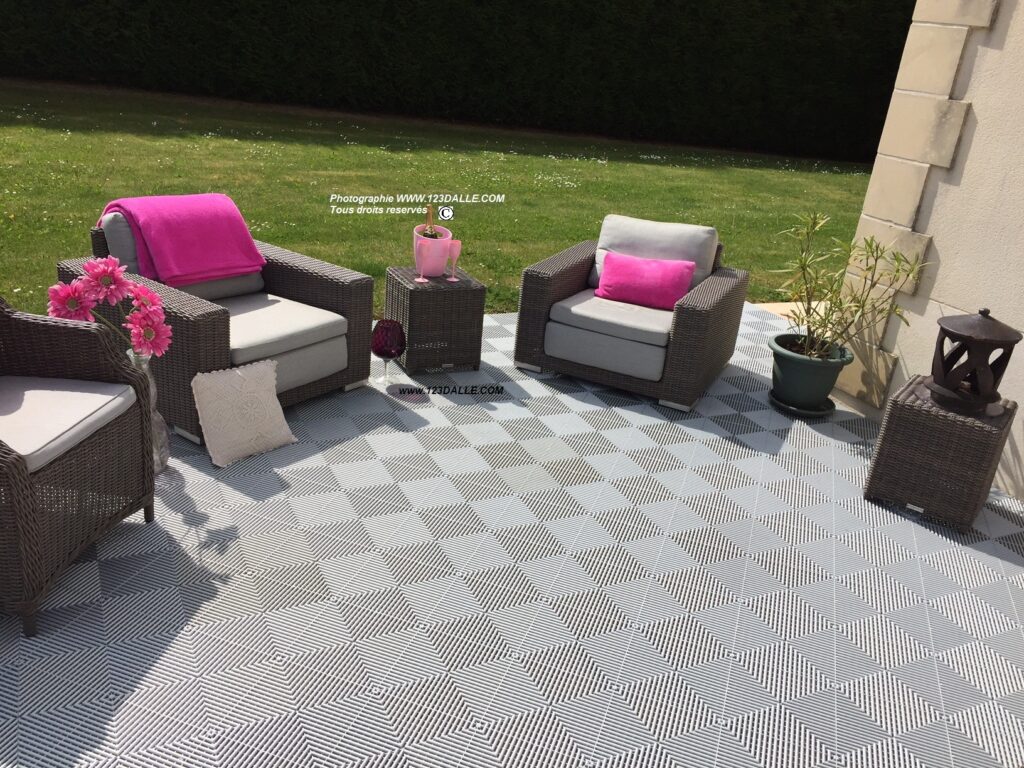 SWISSTRAX tiles are installed by simple clipping, no gluing or joints. A system of clips molded to the tile equips the 4 sides of the floor tile which allows an uniform and firm fixing. Each tile is clipped togheter, a real 'game' for adults. Lay your terrace tiles directly on your original concrete floor, no need for leveling. The installation must be done on a compact and hard support (concrete screed, compacted earth, compacted chippings …). SWISSTRAX floors make up for the unevenness of your floor thanks to their flexible structures that adapt to your environment. The surface of this terrace flooring is hard and rigid which allows a resistance of 25T / m2 to rolling! Garden furniture, tables, chairs and outdoor furniture welcome!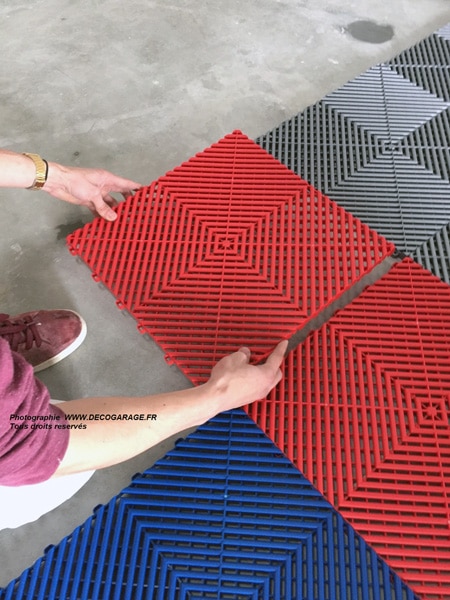 Create your patio and deck flooring as you wish, with your favorite colors and style thanks to the 20 colors available. Make locations or demarcations using color. Choose the Ribtrax or Smoothtrax tile model, free flow tiles that allow impurities and liquids to pass. These tiles convey a visual checkerboard look that gives a design side to your terrace, sublimate your exteriors with tonic colors to shake up traditions!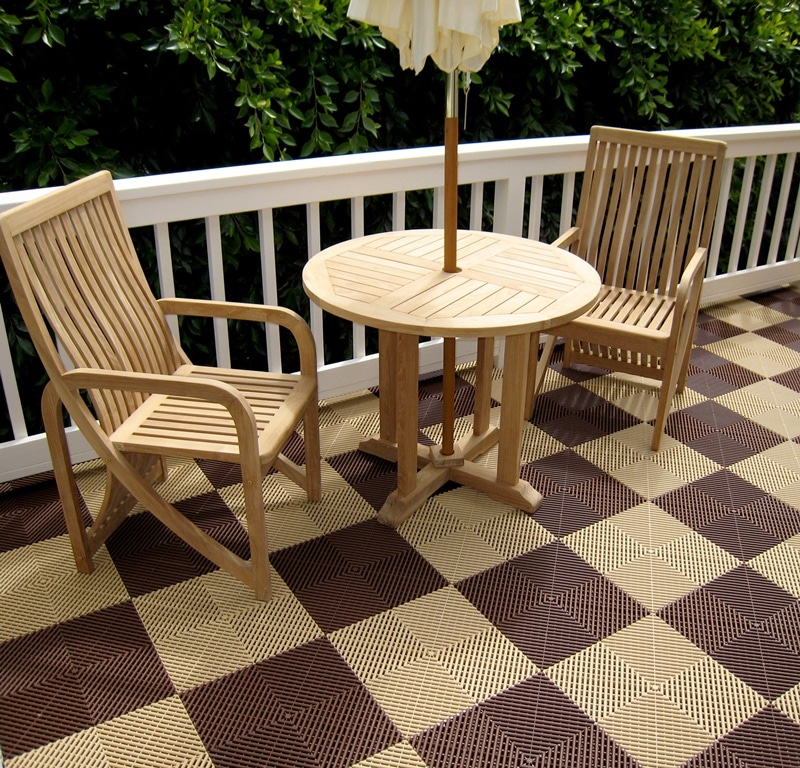 Benefit from a low maintenance, resistant and durable product. Keep your floor surface clean thanks to the draining function of the floor tile. Maintenance comes down to the use of a high pressure cleaner or a simple water jet. In the case of hard sport on your floor, use of a flat mop combined with a mild degreaser is sufficient. SWISSTRAX tiles are resistant to most aggressive products such as hydrocarbons, brake fluids, food liquids, thanks to the use of the raw material (Polypropylene). See our videos related to cleaning SWISSTRAX terrace tiles. Dimensions of the tiles: 40×40 (cm) and 1.8cm in thickness or 1.6cm for Smoothtrax.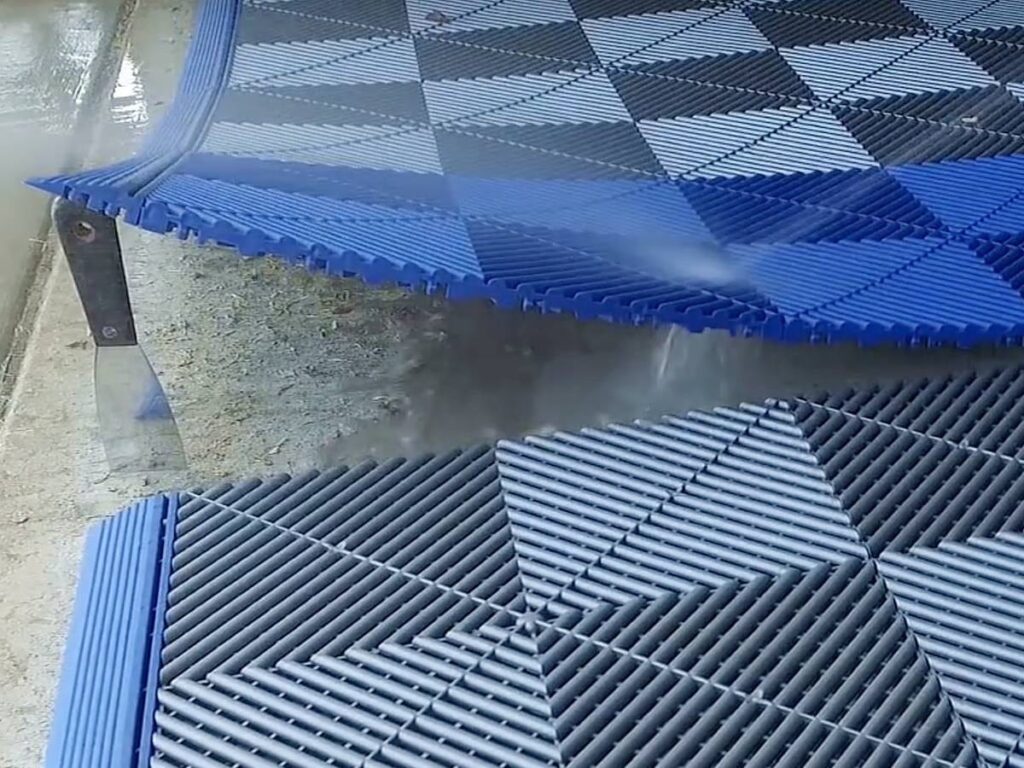 SWISSTRAX tiles are non-slip, even when wet. The tile's openwork profile prevents you from walking in puddles of water accumulated on your terrace, the water passes through the tiles. Enjoy your terrace even in winter! Depending on the use of your terrace, 2 models of tiles are to be selected: The Ribtrax tile or the Smoothtrax tile.
Are you looking only for the design and you never walk barefoot on your terrace?
Are you looking for the design and are you walking barefoot on our terrace?
Choose Smoothtrax ( The top of the tile is flat and smooth and more confortable)
SWISSTRAX flooring is available in stock in our factory in France, we manufacture in France and we ship from France to all the European countries. Quick transit time and quick delivery time, we deliver residential and professional customers. 
Need a quote ? Clik here.