Diamondtrax tiles is a tile with a streaked aluminum structure. This product can be compared to a concret tile but without the inconvenience of installation and maintenance. Its 18mm thickness makes it an extremely solid floor tile. A real "plastic" polypropylene floor tile for garage, easy and confortable installation, DIY.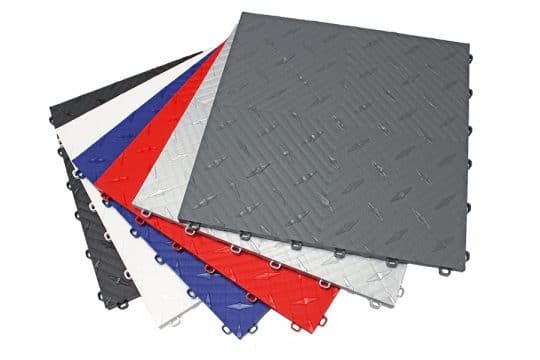 The Diamondtrax tiles is resistant to most chemical product and various automotive liquids. This tile resists even skydroll (aviation oil) and some acids and solvents. The surface of this tile is smooth and shiny to facilitate cleaning, it is not a floor tile with a grainy appearance. This floor tile can be compared to tiling but without the inconvenience of installation and maintenance. 18mm thickness for a superior restitance !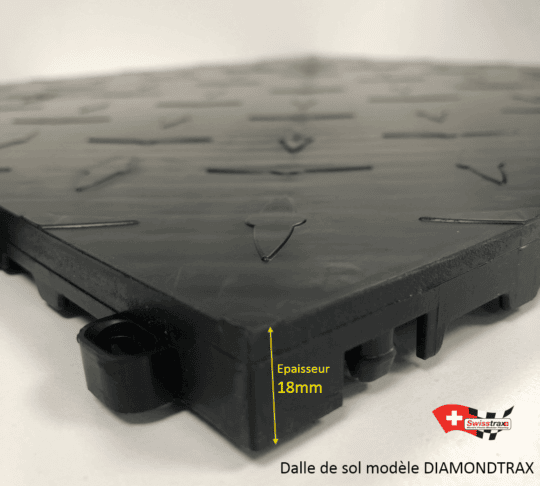 Install your floor tiles quickly and easily thanks to the fixation system by simple clipping. No specific tool for installation. No floor preparation unlike resins or floor paints. Put your floor tiles directly on your bare ground and forget the patching or other …Diamondtrax® is a solid industrial tile that features a classic diamond plate appearance. Easy to clean and built to last. It's never been easier to transform your floor with a premium, commercial-grade modular flooring solution.
All SWISSTRAX tiles have the same dimensions, you can mixed different tiles type during your installation. Mix tile colors with the 20 colors available, even incorporate your favorite logo. The Swisstrax polypropylene floor tile is very versatile.
Diamondtrax tiles are extremely resistant and transform your floor. Its rigid base, diamond pattern and engraved surface protect while improving friction. Cleaning is easy thanks to the smooth and glossy surface of the tile. No trace of hot tire on your tiles, even after long parking period. Cleaning is compared to the maintenance of a simple tiling but without the disadvantages of installation… Check our blog about a comparaison with ceramic.
Quick floor installation
The Swisstrax clip-on system ensures an easy and quick installation, you clip-on your tiles and that's all.
Floor accessories
We offer a border and angle system that allows safe access to your floor (passage from garage door, stand contour, corner…)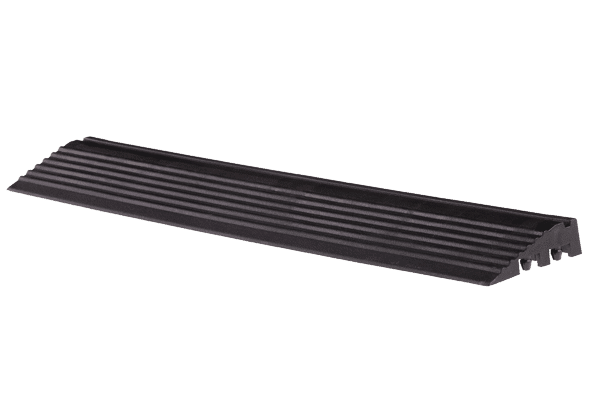 Technical data
Dimensions par dalle : 40x40cmx1.8cm, dalle au poids unitaire de 800Grs
Matière : Polypropylène PP 100% recyclable,
7 couleurs disponibles,
Couleurs spécifiques sur demande,
Excellente résistance aux hydrocarbures et différents produits chimiques,
Utilisation -30°c +120°c,
Traitement anti-UV,
Résistance : 25T/m2.