In industry, flooring is one of the building elements that must be relied upon. Resistance, delimitation of areas… many requirements emerge at the beginning and their response must be adapted but above all sustainable! There are many constraints for each activity and each building, depending on the use, the machines, the products… Choose Swisstrax tiles for your industrial flooring.
What specifications are needed for industrial floors?
For industrial flooring, there are many factors to consider.
The main criteria to be taken into account are resistance, durability, safety, maintenance and the versatility of the flooring.
The floor must be non-slip to ensure a safe work environment for employees.
It must resist a strong passage, and resists the weight of conveying machinery. As such it must also allow rolling without hindering the movement, nor cracking or breaking.
Finally, the ideal floor for industries must be easy to clean and maintain: the maintenance around the machines must be able to be done without disturbing their proper functioning.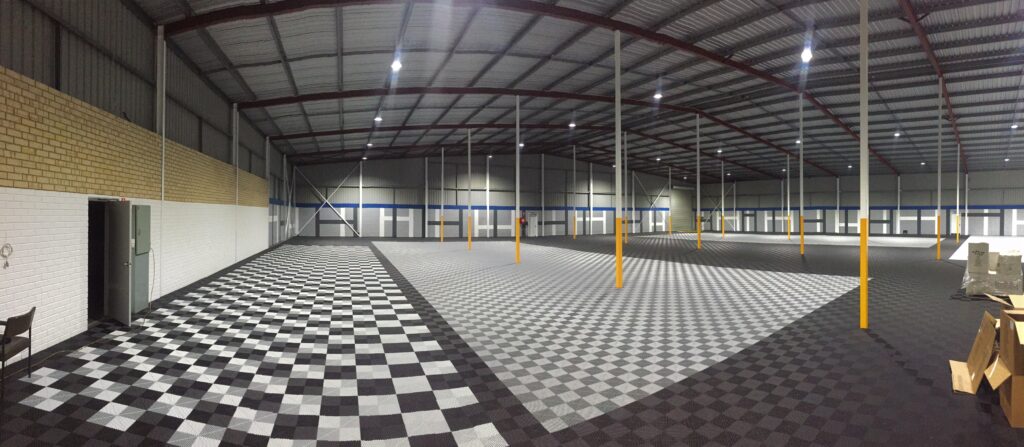 Advantages of SWISSTRAX tiles for industrial flooring
SWISSTRAX floor tiles meet all these requirements. The advantages of using modular flooring in an industrial environment are numerous.
Our 100% virgin copolymer polypropylene tiles are adapted to the specific needs of industrial environments.
For starters, installation is quick and easy compared to traditional flooring options such as concrete or epoxy flooring. This means less downtime for your business during installation.
Modular tiles also offer excellent slip resistance, which is crucial when securing work areas, but also pedestrian areas in the facilities.
Speaking of pedestrian areas: Thanks to the many colours of the SWISSTRAX floor tiles, it is possible to define areas or passageways and thus quickly and easily mark them.
SWISSTRAX polypropylene tiles are resistant to aggressive products such as oils or solvents and withstand temperatures from -30°C to +120°C.
Optionally, you can add your logo or a special design to your project with our Graphictrax Pro tiles.
As for maintenance: SWISSTRAX floor tiles support professional washing machines and cleaning products used. Cleaning is easy and you can even lift one or more tiles to wash your original floor if needed.
SWISSTRAX floor tiles for industry professionals
As a leading manufacturer of floor tiles, we are proud to produce high-quality products that meet the needs of our customers. Here are some of the advantages that set us apart.
We manufacture 100% of our products in France, in our ISO 9001 certified factory in the Hauts de France. As the original patent holder, we ensure that our products meet the highest standards of quality, safety and durability.
We use a very high-quality raw material: 100% virgin copolymer polypropylene (PP). The injection is carried out in the only possible way for an optimal distribution of the material. This allows our tiles to withstand heavy traffic, impacts and harsh environments.
In addition, the tiles do not emit any smell or chemical substances (comply with REACH, a regulation that aims to protect human health and the environment from hazardous chemicals).
The dyes used are also made in France, which allows a uniformity of colors of the tiles. We guarantee that the colours remain the same even if the tiles are not produced at the same time.
Trust our customer service to order your industrial flooring
We offer free and non-binding quotes. This means that you can get an estimate of your project, calculate your budget and define with our team what is best for your industrial workshop.
We are at your disposal to provide you with quick answers to your questions. We know how important it is in decision-making to get clear and precise information to your questions. So our goal is to respond as soon as possible.
We understand that once a decision is made, time is of the essence and delays can be costly. We have all the tiles in stock and quickly ship your order.
In addition, our team of floor specialists provides design and wedging support. We help you create a coherent and functional space. Whether you need help choosing colors or choosing tile types, our professionals are there to guide you through every step.
A project for your factory floor? Contact us: