Showroom flooring : Give a new look to your showroom? Looking for an attractive material, resistant and easy to install ? Opt for the SWISSTRAX showroom floor tiles ! Whether creating or renovating, these tiles are created with maximum simplicity – by a system of fasteners that allows them to clip to each other. With SWISSTRAX floor tiles, your showroom floor will change its look!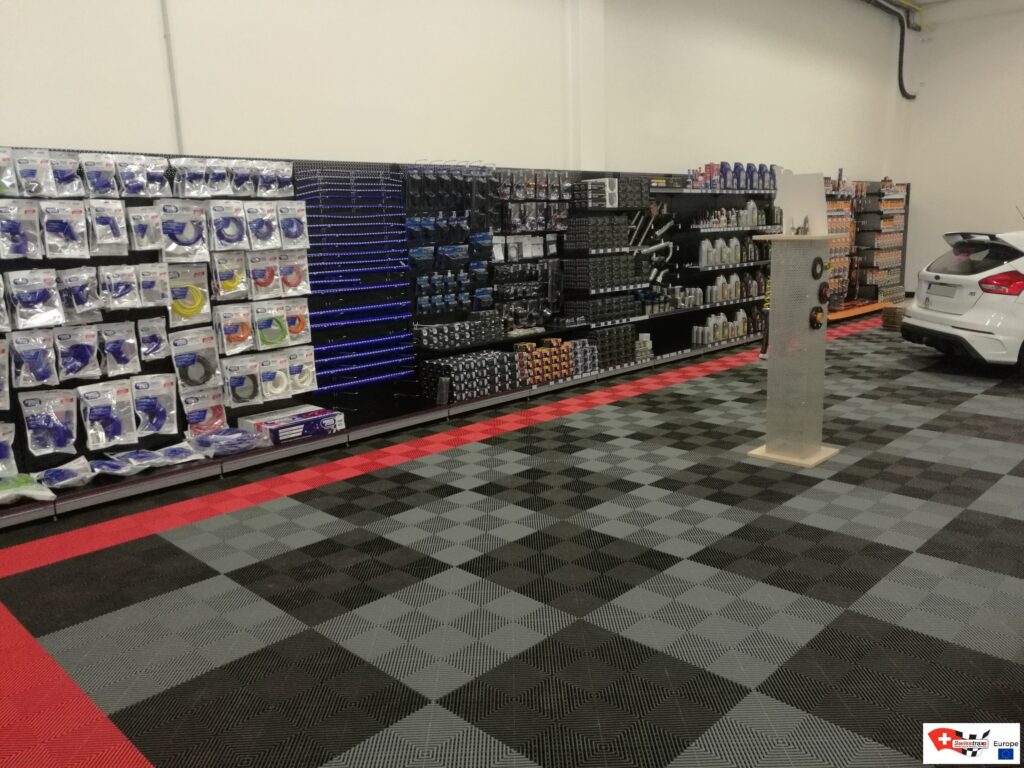 Thanks to their perforated and open structure, the Ribtrax showroom flooring have an immediate aesthetic effect. Not only do they catch the eye of the visitors, but they always remain clean: the dust passes through!
Easily adjustable, the product is very convenient to demarcate a special area with an original enhancement. Our floor tiles for showroom are available in almost twenty colors and five different styles: choose different shades to enhance some of your vehicles or to promote your event area. And for maximum customization, we can integrate the logo of your company directly on these showroom tiles!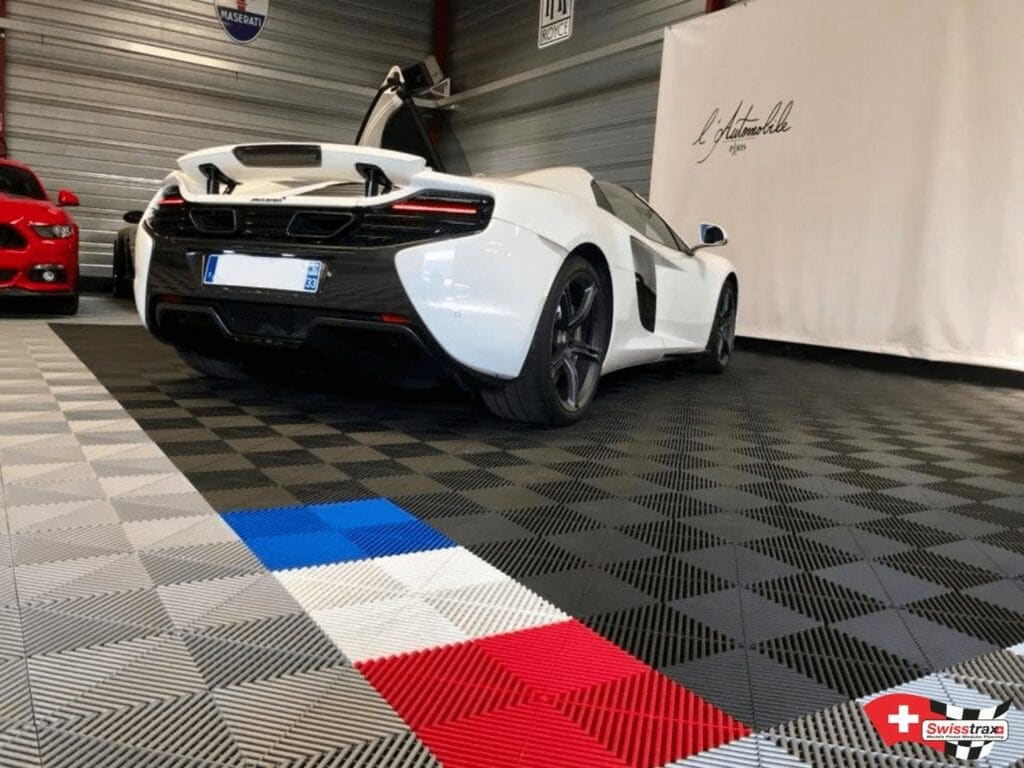 The installation of these exhibition floor tiles takes only a few hours, depending on the size of your surface. Unlike traditional coatings and floor paints, these showroom tiles are easy to install without the need for tools or glue. Simply clip the tiles together with the help of a little hand pressure, and that's it! No chemicals, no smells, and no need to shut down your business for the duration of the installation. You can start installing your tiles and immediately install your products on them.
On top of this, dismantling is equally as easy: once the showroom is finished, unscrewing your SWISSTRAX floor tiles will be a very easy operation!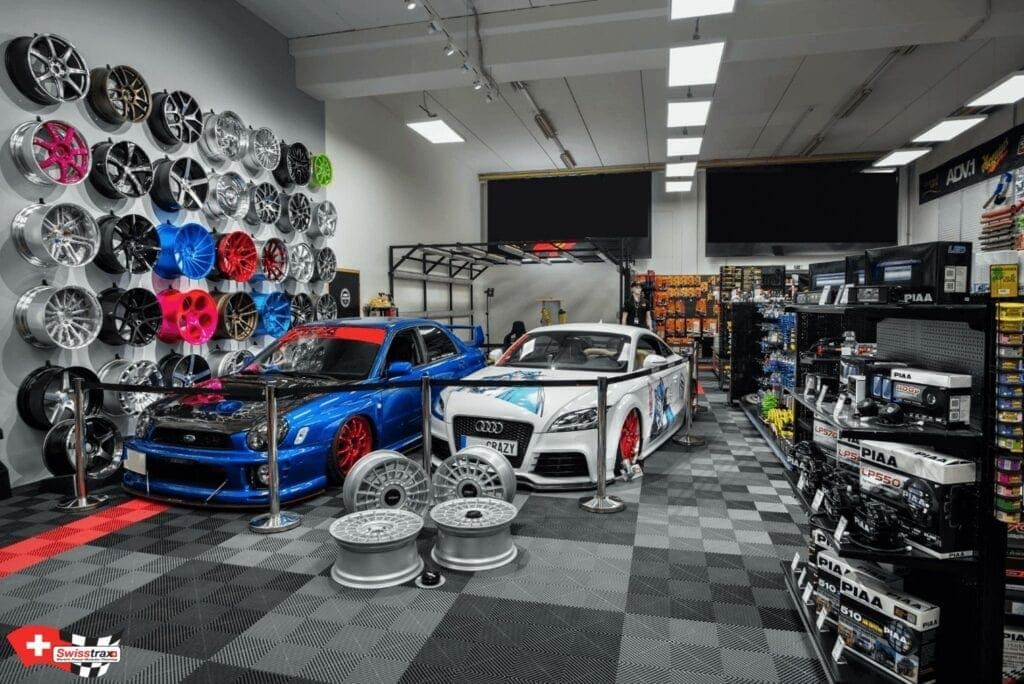 No need to dismantle your entire showroom tile installation for cleaning. The dust passes through the open-profile structure of the tiles! Check out Our videos. A vacuum cleaner and a wet mop are enough. The time saved allows you to focus on more useful business tasks! Do you want a floor tile with a solid structure? Choose the Diamondtrax model, a solid tile with the principle of tiling without the inconvenience of installation and maintenance. A tile with a brilliant effect that allows easy and fast cleaning.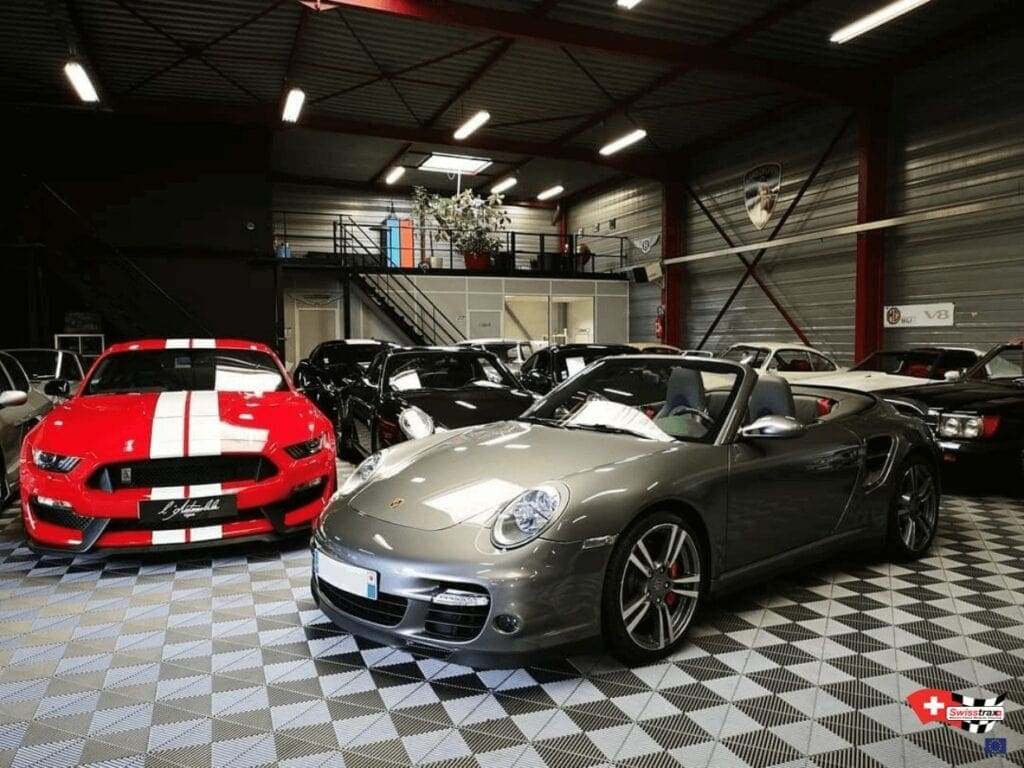 Choose your tile model according to the desired ambience. You can also mix the different styles of showroom tiles; their dimensions are identical! Cars, motorcycles, bikes, quads … this new flooring will seduce you with its modular side and design at will. Create exhibition areas in your exhibition space! For example, define your spare parts spaces, your brands, your reception areas thanks to the different colors of tiles available.