Our removable and transportable dance floor concept is made for you if you are looking for a quick to install solution, easy to assemble, with high ease of use and simple maintenance.
Polypropylene floor tiles for removable dance floor.
The SWISSTRAX snap-on floor tiles are not only for garages. You need a removable and transportable dance floor? the modular tiles are an ideal solution.
With a very fast installation by simple clipping, your dance floor is maintained without glue and without joint and thus remains removable. Installation is done simply by aligning the fasteners of the tiles before pressing with your hand to fit them.
Whether for an ephemeral or a serial event, on a terrace, in a restaurant, in a convention room, in a hotel or in a club, install a comfortable and functional dancefloor in a very short time!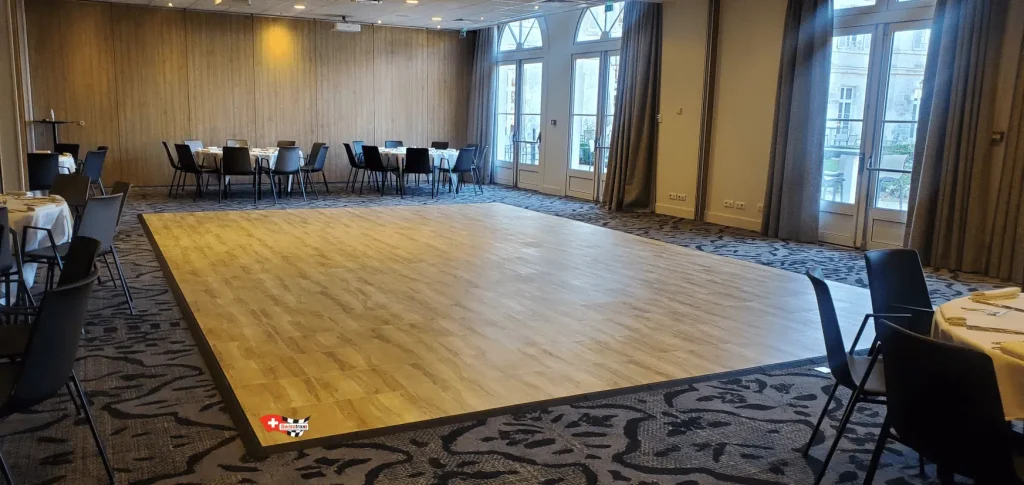 Parquet finish: a real dance floor
SWISSTRAX Vinyltrax Pro floor tiles have a very realistic wooden parquet finish. They are available in several colours for different styles:
Vintage oak, a grey wood with an «old» effect
Light oak, traditional light wood, with realistic knots and veins
Dark oak, a caramel-colored wood, with a warm hue.
The tiles are in two parts. The base, which is the part that clips, and the Vinyl finish, the surface of the tile that makes the style of the dance floor.
In case of a tile change, you can change only the vinyl or the vinyl and the base for each tile. No need to change the entire dance floor, the tiles disassemble individually easily.
The tiles are also available in grey or black marble finish, with the same properties.
Personalize your dance floor with your logo (dance company, company, event agency…)
Quick installation of your dance floor
With an individual weight of about 1Kg, the tiles are very comfortable to install. Each carton delivered contains 2.72m² of tiles, or 17 tiles. Depending on the size of your dancefloor, it can even fit in the trunk of a car. In all cases, the tiles are installed with a simple pressure of the hand, and are also disassembled by hand.
The tiles can be perfectly stacked in case of storage without damage.
In a very short time, build your dance floor and the same for disassembly. It will take about 20 minutes to assemble a 20m² dance floor, and about 15 minutes to disassemble.
The SWISSTRAX tile fasteners are reinforced. The tiles are perfectly suitable for frequent assembly and dismantling.
A resistant and quality dancefloor.
For more than 20 years, SWISSTRAX has been designing floors made to last.
The SWISSTRAX Europe floor tiles are 100% made in France, in our ISO9001 certified factory.
The raw materials used are of very high quality. We use 100% virgin polypropylene without base additives with a proven injection method for perfect homogeneity. The surface vinyl is an extra hard vinyl of first choice. It resists shoes, and strong passage. Moreover, the surface is smooth, which does not hinder the step and does not grip the shoes.
To finish your dance floor, the edges are sloping for accessibility. They also clip, as do the corners.
The SWISSTRAX polypropylene tiles withstand a weight of 25T/m² and have an airy structure that allows air to circulate under the tiles. They also tolerate slight roughness of the ground, which allows them to be applied without patching.
Versatile floor tiles for your dance floor
Used in professional or private installations, the SWISSTRAX floor tiles are suitable for a versatile, durable and economical floor.
They replace cumbersome technical floors for communities. They can be transported more easily, are maintained with a simple mop or even with a professional washer and can be reused at will.
Thanks to the base + insert structure, in case of damage, change only the damaged tile. And you can even change only the appearance of the tile by changing the surface vinyl.
Contact our flooring experts for your dancefloor
If the size of the dancefloor you want is not on our online shop, you can contact our experts who will accompany you in your dance floor project.
Choice of colors and sizes, borders, corners… a consultant follows your project and prepares a free custom quote without obligation.
All our dance floor tiles are in stock. We ship daily and deliveries are tracked.
To contact us: