In commerce, it is important to create an attractive space to showcase your products. The SWISSTRAX store and commercial floor tiles are available in 20 colours and 5 designs so that you can find the right style for your business. Heavy work is not necessary for the installation: you install yourself in a few hours the floor of your store.
The renovation or creation of your sales spaces is fast and especially customizable at will!
Quick and convenient store flooring to install
The SWISSTRAX snap-on tiles are installed without any work. They are installed without glue, without patching, without professional installer who will add fees. Lay your own tiles: find your starting point indicated in the instructions and position your first tile. The following SWISSTRAX tiles are then clipped with a simple hand pressure. Once installed, the tiles form a stable and uniform floor.
The SWISSTRAX store floor tiles are disassembled as quickly as they are assembled. Move your areas, create new spaces: the tiles can be removed at will. Take away your tiles if you change premises. Also practical for stands and trade fair.
The surface of the tiles is very resistant. They are perfectly suitable for intensive use as in store. The tiles are colored in the mass, which guarantees an identical appearance of the tiles, even in time. The anti-UV treatment also contributes to the aesthetics of the result: the floor does not tarnish. Finally, SWISSTRAX tiles are a technical and safe product: the surface is non-slip, even wet.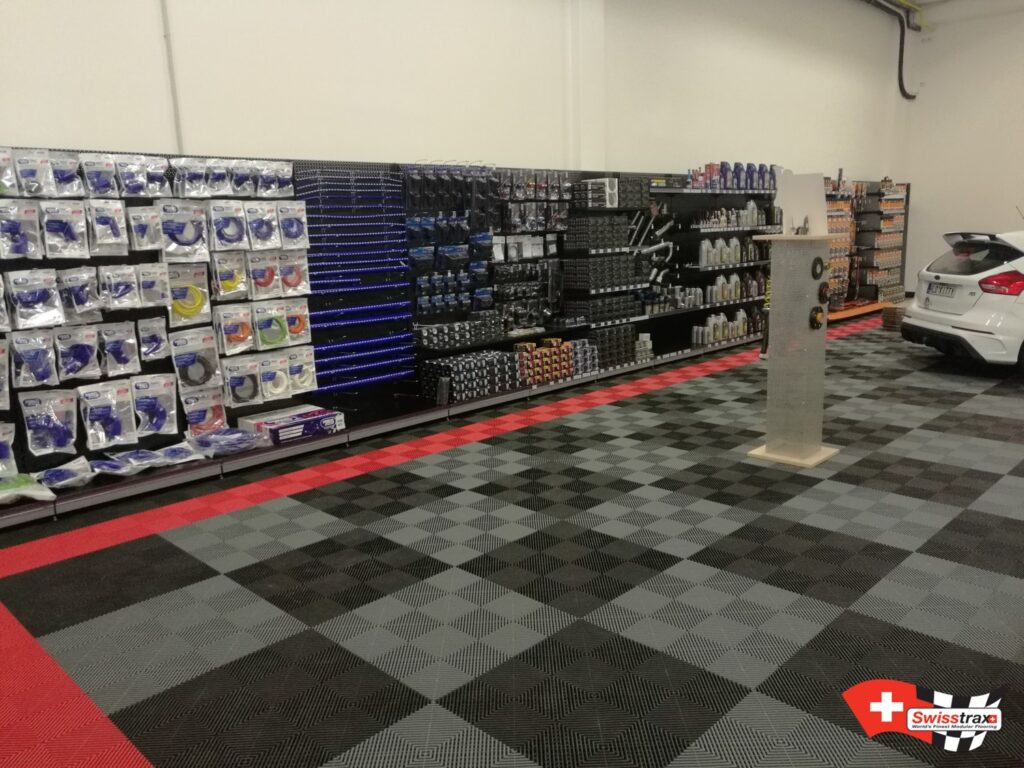 A store and commercial floor that is easy to maintain
Whether openwork or solid tiles, SWISSTRAX floor tiles are very easy to maintain. The tiles even support professional washers.
The Ribtrax Pro floor tile, with its openwork profile, allows impurities to pass through. Therefore, the floor surface is clean, without having to vacuum every day. The grid structure also prevents dust rising from the original ground. To maintain the surface of your tiles, vacuum from time to time to remove impurities. A mop will be useful from time to time to recover the brilliance of a new floor.
You can also choose a solid tile like the Vinyltrax Pro tile. With a tiled or parquet finish, the Vinyltrax Pro tile allows a complete surface cleaning. The benefits of a tiled floor, without the tedious and expensive installation. Without joint, without glue, the Vinyltrax Pro floor tile is available in grey or black marble and in 3 wood shades. They clip like openwork tiles and are even compatible with them.
A compromise between openwork and solid tiles? Smoothtrax tiles are for you. The advantage of openwork floor tiles with ultra-easy maintenance! With 3mm reduced streaks, impurities are allowed to pass through. The flat top of the tile is cleaned like a real tile, without omitting the edges of the striations.
Choose styles that match your desires and needs to completely customize your commercial space.
Install your own store and commercial floor
We know that for a store or a commercial space, the key is to not close the shop for too long. SWISSTRAX floorings are therefore installed quickly but above all without the need for an outside company
You order, receive and install your new store floor in a very short time. You do not depend on third party conditions and a few hours is enough for a complete installation. No need to be a professional handyman. The pose is done at your own pace and especially without stress, since you can unclip at will. You can position the other elements of the store immediately as there is no drying time to respect.
Advantages of SWISSTRAX floor tiles in stores
25T/m² resistance
Non-slip tiles, even wet
Ultra high resistance to passage
Easy, quick and tool-free installation
DIY installation, without required skills
No glue, no gasket, no drying time
Removable solution, reusable at will
No attachments that damage the floor
Multiple designs possible, maximum customization
No smell during or after installation
Differentiating from traditional solutions (lino, classic tiles, concrete…)
Showroom, exhibitions, salons: versatile floor tiles
Your floor is already made, but you want to showcase your products? Draw your customers' attention to what matters to you with a floor covering that stands out!
Create podiums or spaces of presentation thanks to our different colors of tiles and modulate the space according to your needs.
Collection launch, event… the tiles are reusable for long-term savings.
Do you have a stand to design? The SWISSTRAX tiles are transportable and showcase your stand among your competitors.
Also think about floor tiles for your pop-up stores or event.
The advantages of SWISSTRAX Europe
We produce 100% of our tiles in France in our ISO9001 certified factory.
This implies maximum quality, with the highest quality raw material. It is also the assurance of being able to quickly ship your order. Indeed, our tiles are still in stock in our warehouse of 20,000m².
Receive your free quote
Contact our floor tile experts who will accompany you in your store floor project.
Simply take the number of m² and choose the contact method that suits you:
If you already have your measurements and a design idea, you can also use our floor simulator.