10 reasons to choose removable floor tiles over concrete for your garage.
Concrete floor or another solution? Your garage can become a real living room when you plan its design or renovation. By choosing the right materials and decoration you like, the garage is a functional room in the house in which you can arrange the space according to your tastes, and the functions you want to dedicate to it: storage, workshop, home gym… In addition to being able to shelter your vehicle!
Concrete floors are the basis of the construction of a garage: easy to clean, but unattractive. An alternative is available: polypropylene floor tiles. A resistant material, easy to maintain, with a car paddock finish. The advantages of using floor tiles for garage are numerous.
Here are 10 good reasons to switch from a plain concrete floor to a SWISSTRAX modular flooring.

1/ An easy installation
If your floor is already concreted during your installation, you must ensure its flatness. If your garage is new, you must of course plan the slab in your masonry budget. Its creation must respect many constraints to avoid deformation and limit the risk of humidity.
In the case of a renovation, a polypropylene floor covering, such as SWISSTRAX floor tiles, does not require any polishing or long preparation. Simply clean the area and clip the tiles one after the other. The reinforced fasteners fit easily, without forcing.
The tiles can be laid on any stabilized floor.
You can also watch the installation tips on our YouTube channel.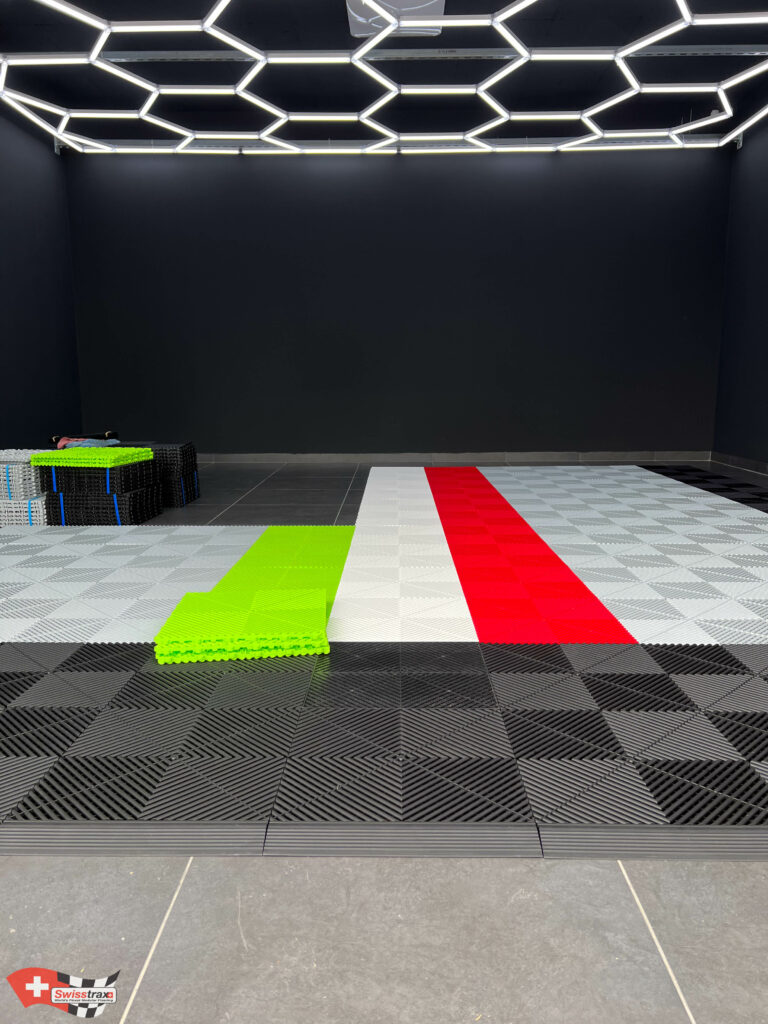 2/ The boring grey concrete floor is over
Even with dyes a concrete floor will always have a rough-looking finish. It's complicated to create patterns or change the design as you wish. And once the concrete is poured, the result is frozen.
The SWISSTRAX tiles are available in 5 styles and 19 colours, offering a virtually infinite possibility of customization.
Depending on the different areas of your garage, adapt the floor to your needs. A workshop area in SMOOTHTRAX Pro, the parking area in RIBTRAX Pro and even a relaxation or sports area in VINYLTRAX Pro: give free rein to your imagination.
The result will be much more aesthetic than a simple concrete floor!
3/Avoid cracks and wear of a concrete floor
Concrete floors are prone to cracks and stains. Concrete is a construction material, not suitable for finishing work if it is not specifically intended for this purpose (especially with additives).
SWISSTRAX tiles are designed to withstand more than 25T per m². The fasteners are reinforced for strength. A crossing reinforcement ensures the maintenance and stability of the tile. The 100% French manufacturing in an ISO9001 certified factory also allows us to monitor each batch of tiles.
Polypropylene is known to resist hot tires marks and most chemicals found in a garage. However, be careful not to let liquid leaks stagnate. Quickly wipe the affected floor tiles. You can also remove tiles individually to clean them.
4/ A more secure garage floor
The surface of Swisstrax floor tiles is non-slip, even when wet. This greatly reduces the risk of falls in your garage.
A wet concrete floor presents a risk of slipping. If it rains or snows often in your region, this is to be taken into account in your garage design or renovation project.
5/ Modular floor tiles: easier maintenance than a concrete floor
Quick maintenance: Cleaning concrete floors can be difficult due to their porous nature, which allows dirt, oil spills and other substances to penetrate the surface. On the other hand, Swisstrax polypropylene tiles are easy to clean with a broom, mop or pressure washer, ensuring a hassle-free maintenance routine.
6/ Weather: a suitable floor for all climates
A concrete slab can be compromised in the event of significant temperature differences. Shrinkage and expansion due to heat or cold are often the cause of cracks.
Polypropylene in SWISSTRAX clip-on tiles is a material that is perfectly resistant to temperature fluctuations. By making sure to respect the installation instructions and leaving spaces for expansion, they will endure cold winters and hot summers without problems.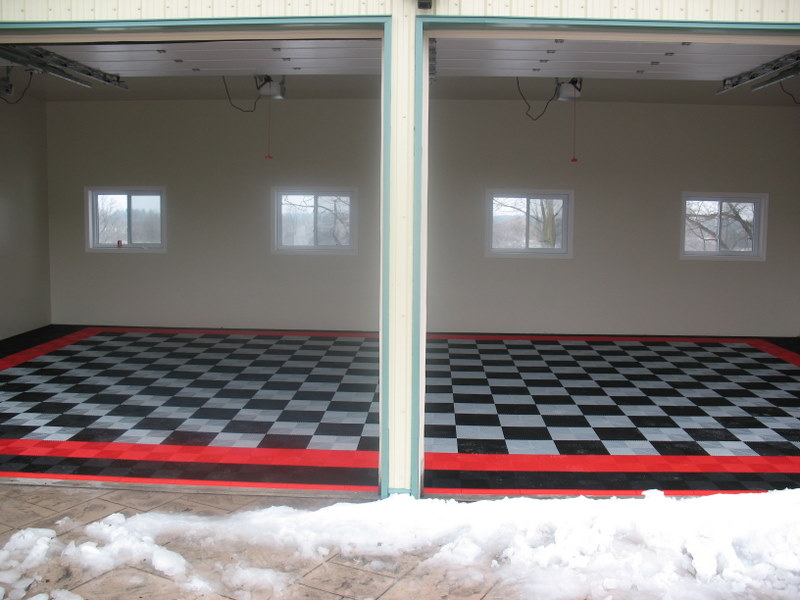 7/ Noise reduction thanks to modular floor tiles in your garage
A concrete floor tends not to block the echo, or even amplify the noise.
The sources of noise in a garage are many: engines, car noises, crafts…
These sounds are mostly loud and can cause discomfort.
Clip-on polypropylene tiles help reduce noise in your garage. Your space will be quieter and more pleasant.
8/ A 100% recyclable product
Polypropylene is a 100% recyclable raw material.
For our tiles we have chosen a premium quality 100% Virgin raw material to offer very high-quality products.
This is to ensure the stability and durability of our tiles. If you need to dispose of your tiles they will be transformed and reused.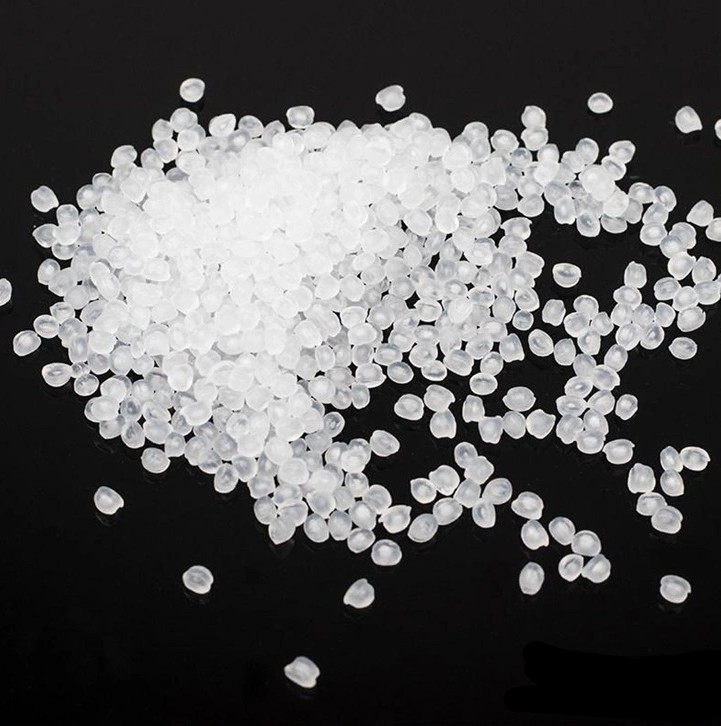 9/Beautiful garage floor, long term
A concrete slab is an option that may seem inexpensive at first. But when used, it is more likely to crack, breaks or get dirty. This represents a maintenance cost that can weigh on the budget over time.
A clip-on polypropylene tile for garage has a very long service life.
SWISSTRAX tiles are guaranteed for 20 years. Their design also means that you don't have to replace the entire floor if necessary.
10/ A flooring made in France and ready-to-install
We manufacture our tiles in the Hauts-de-France region, in an ISO9001 certified factory. Our dyes are also of French origin, to ensure traceability and colour stability.
French production and our permanent stock allow shipments within 24/48h. Delivery is by appointment.
Moreover, it is an easily movable solution if you move: take your tiles with you!
How to order your swisstrax flooring?
To order your tiles and start installing your garage, it's simple:
Via our shop: choose your tiles, click, and done! With the SWISSTRAX floor simulator you can even create the right design directly online and transpose it into a shopping cart or quote request. (Be aware that the shop is only available in French, and delivery is limited to France and Belgium with this solution)
By contacting our flooring experts: get your quote after a thorough study of your plans and constraints. Let us guide you to adapt your project to your needs and desires! With our team, deliveries are available worldwide.